Its another beautiful Friday! The birds are chirping, the sun is shining and you are thinking of what to get drunk with tonight. I know how you get. There's no need to hide it from me, I accept you just the way you are.
So just like the bad influence that I am, I have gone scrounging through the deepest and murkiest parts of the interwebs to bring you back this: The Brain Hemorrhage Shot. A favorite among zombies, due to the fact that, well, it looks like a brain hemorrhage. Hence the name...
Here is how you get around to making one of these delicious and surprisingly easy concoctions.
Fill a shot glass halfway with peach schnapps. GENTLY pour Bailey's Irish Cream on top. After the shot is almost full, CAREFULLY add a small amount of blue curacao. After it settles, add a small splash (or a few drops) of grenadine syrup.
There you have it! One brain in a glass. You can thank me tomorrow after you sober up.
Here is a little instructional video if you need some more help. It does contain some adult language so little ears be warned.
Pretty cool right? Just don't do anything stupid when you're drunk...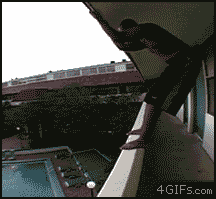 What did I just tell you!?
Thanks for reading! Be sure to hit the 'Like' and share buttons so everyone you know can get in on the fun! =D